The Secret of Alternate Nostril Breathing (Anuloma Viloma)
No matter what kind of imbalance or a problem you are dealing with, Alternate Nostril Breathing can help you. Yes, I am this excited about this ancient breathing technique!
Prana, which is our lifeforce, is the bridge between body, mind and consciousness. Breathing and mind are very closely connected. When you can balance your breath, you can balance your mind. You can experiment with this yourself, just close your eyes and take a couple of deep breaths. Now, open your eyes. Isn't your mind immediately calmer? It seems like the breath takes the mind with it, no matter where it goes or what it does.
Through your breath, Prana gets carried to every cell of your body. When you breathe superficially, constrain your breath, or have irregular breathing, it affects the deeper tissues of your body. Therefore, when you balance your breath you not only balance your mind, but also your physical body.


How to Perform Alternate Nostril Breathing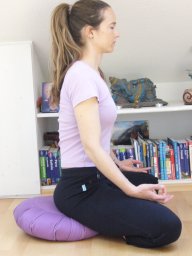 To practice Anuloma Viloma, sit in a comfortable position, with your back straight.
This can be on a chair or in an elevated seated position on the ground.
Make sure you can sit comfortably for 5-10 minutes.
Adjust whatever you need.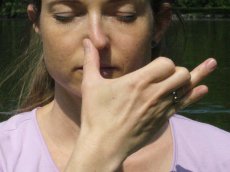 1) Gently close your eyes and take a couple of deep breaths. Inhale . . .
2) Place your right hand in the position shown (your thumb closing the right nostril and your ring finger and little finger straight).

3) Exhale through the left nostril. Inhale easily through the left nostril.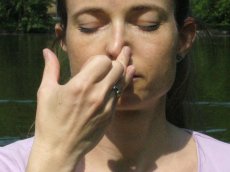 4) Close your left nostril with the ring finger and exhale through the right nostril. Inhale easily through the right nostril.
5) Close the right nostril again and exhale through the left nostril. Alternate left and right nostrils for 5-10 minutes (can start with 1 or 2 minutes and slowly build to 5-10 minutes).

Remember to always start with an exhale and end with an inhale on each side.
You will feel rejuvenated, relaxed and calm after this exercise. If you have any questions, please email me.


When to Perform Anuloma Viloma
Anuloma Viloma is best performed in the morning, on an empty stomach before meditation or yoga. You can also practice Alternate Nostril Breathing any time during the day (even just for a couple of minutes) when you feel agitated, angry, irritated, ungrounded, tired or otherwise "not in your own skin".
This Pranayama (breath exercise) is also safe to be performed during menses (of course, if sitting up is comfortable for you and the alternate breathing doesn't causes you to be light headed or otherwise uncomfortable).
Anuloma Viloma is also a great opportunity to close your eyes during a busy day and rejuvenate your body & mind. I find it also very helpful for tired eyes from too much computer work.
As one of my dear friends said: "It's hard to imagine that there are people in this world, who spend their entire lives without Alternate Nostril Breathing." It's truly one of my favorite relaxation techniques that I have discovered.
Enjoy the bliss!


Return from Alternate Nostril Breathing to Yoga Poses
Return from Alternate Nostril Breathing to Ayurveda Holistic Medicine HomePage