How to Get the Most Benefit
(and Joy) from Yoga Poses
Yoga Poses are a vital part of holistic living.

Ayurveda & Yoga are sister sciences and were always practiced together in ancient India. One cannot live without the other. Sometimes they were referred to as inseparable sisters.
One of the meanings of the word Yoga is unity. From my own practice, I find this to be true. When I practice Yoga, I feel connected to my own breath, I feel united with the Universe. Body, mind, and breath are connected, they are one.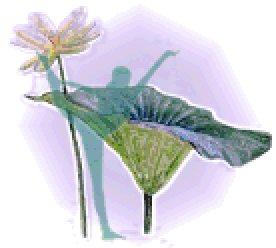 Breath is a vital part of Yoga Positions. Breath takes us first deeper into ourselves and then carries us from one yoga pose to the next. When we follow our breath, we are less likely to cause injury or overstretch. Our breath is our guide. Our breath is the most important and vital friend we have. Always with us. Always ready to help. Always guiding us.

Yoga Poses help you to quiet your mind and come in a closer contact with your true nature. Connect with your breath. Come closer to yourself.
Yoga Positions bring the most benefit if practiced daily (your practice needs to be tuned down or omitted when on your period).
When you are feeling too ungrounded, scattered, irritated or otherwise not present to practice Yoga, start first with the Alternate Nostril Breathing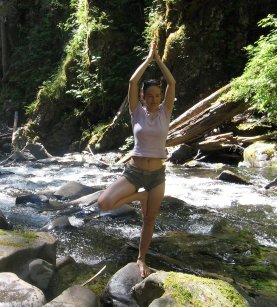 You can practice your favorite Yoga Poses basically anywhere. My favorite place is nature. I particularly like balancing poses on the rocks.
It's so much fun and the rock is such a great way to connect with the Earth element. It almost feels like your foot (when well balanced, totally in the present moment and without fear) becomes part of the Earth. In this moment, you really become one with the rock. The rock truly supports you. Only when you start having doubts or questions appear in your mind, you lose your balance.


Yoga Poses For Different Ayurveda Body Types
Knowing which Ayurveda Body Type you are or which dosha is currently too high and needs balancing, will help you to adjust your yoga positions.
In general, if you are feeling spacey, scattered, with too much to do, follow Vata Yoga Poses.
If you are hot, angry, competitive, and everybody just seems to get on your nerves, follow Pitta Yoga Poses.
If you are feeling heavy, lazy, just want to lie on the couch and do nothing, than the Kapha Yoga Poses are probably the best for you.
If you are not sure, and feel little bit of everything, just follow your breath, which will always guide you. Just start stretching, moving with awareness from one yoga posture to the next.

Sun Salutation is a great yoga sequence that you can practice daily regardless of which body type you are.






Vata Yoga Poses
Vata benefits from slow, grounding Yoga positions that connect with the breath.
Any poses that are on the ground (connecting with the Earth element) and are slow are benefiting Vata. To balance Vata, it's important to keep a daily routine of the Yoga positions. If you have a high Vata, you are most likely to get carried away to something else or forget or have 'too much to do.' When you are feeling overwhelmed, scattered, spacey, or just 'like a wind' you are probably experiencing high Vata. Just lie on the ground in a Shavasana and focus on your breath. If you do this Yoga posture for 5 minutes, your Vata will significantly reduce.

Halasana, Plough Pose is another great Vata reducing Yoga posture.
Pitta Yoga Poses
Pittas benefit from cooling Yoga positions. When in the Yoga class, avoid mirrors and comparing yourself to other people. Try even closing your eyes if at all possible and really connect with your core. Follow your breath and try to do less than you are able to (I know this can be a challenge!). Don't push yourself. Avoid Bikram, Ashtanga Yoga (which might be your favorites!) and practicing Yoga when it's too hot or during noon hours. Avoid Head Stand (or only practice Head Stand when your environment and your mind are 'cool'). Shoulder Stand on the other hand, is a great Yoga posture to reduce Pitta as it focuses your energy inwards (you are looking up your body and not outside when in Shoulder Stand).
Avoid anything that is too exhausting or requires lots of strength. Avoid moving too fast. Be aware of your breath at all times.
Kapha Yoga Poses
If you are moving fast, you are reducing your Kapha. It's good to sweat for Kaphas and little push doesn't hurt either.
If you are trying to reduce Kapha, you can be moving quite fast (always with breath and awareness, of course) from one Yoga posture to the next. You can also perform Yoga in a heated room, and therefore Kaphas can enjoy the Bikram Yoga. Ashtanga Yoga and other vigorous yoga and exercise are also very beneficial.


What is Your Favorite Yoga Posture?
Do you have one Yoga pose that you just cannot imagine your life without? Share it!
What Are Other People's Favorite Yoga Poses?
Click below to see contributions from other visitors to this page...

Return from Yoga Poses to Ayurveda Holistic Medicine HomePage