Holistic Workshops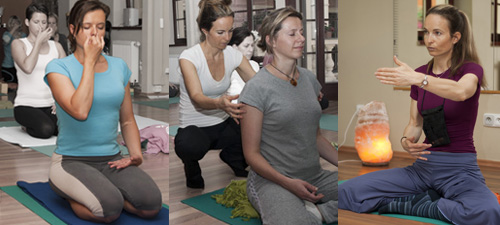 Make Ayurveda and Yoga Part of Your Daily Life with Holistic Workshops
Ayurveda and Yoga are considered inseparable sisters in the vedic tradition - one cannot live without the other. In India, the motherland of Ayurveda, Yoga and Ayurveda are always practiced together as part of holistic living. Yoga has been part of my life for a while, when Ayurveda finally found me. More on that in my personal story.
The reason I fell in love with Ayurveda is its simplicity and common sense. When I was first reading the basic ayurvedic philosophies, something in my heart was saying "yes". Yes, is true, yes, this is how it works. As if my whole being knew what Ayurveda was and I was just remembering it back reading the text. Later on, one of my teachers said:
"We don't teach you Ayurveda, we teach you remember it".
This statement really stuck in my head. Often, when I am reading ayurvedic texts, I have a feeling that somewhere deep down, I already know this, I have just, for a short moment, forgotten.
Come and "remember" Ayurveda. Join us for these three amazing holistic workshops and make Ayurveda, Yoga, and holistic medicine part of your everyday life.


Ayurveda Holistic Workshops, Prague, Czech Republic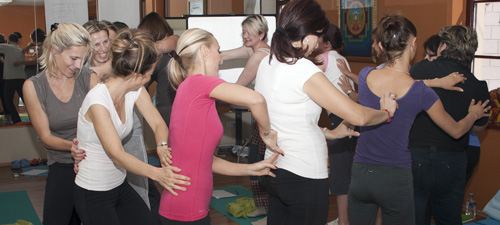 All holistic workshops take place in Dum Jogy, Praha, Czech Republic, from 10-17 (with an hour lunch break) on both Saturday and Sunday and are in Czech. If you are interested in having Ayurveda Holistic Workshops in your area, please let me know. We can offer the workshops in English and Czech.


---
"I have already participated in two Barbora's workshops Rejuvenate Your Body & Mind with Ayurveda and Ayurvedic Diet & Detoxification and I was super excited about them. Practical parts of the workshops are very important for me. For example, cooking the Kichari here, motivated me to cook Kichari every day at home. That was in incredible change for me. It has moved me forward. I have discovered so many new things, new spices and many different ways of cooking. I have an enormous joy from cooking now. I hope that this seminar (Ayurveda, Yoga and Our Mind) will do at least a third, for my mind what the other two did for my body. That would be magnificent. Thank you!!" –Zuzka K., Prague, Czech Republic
---
Rejuvenate Your Body & Mind with Ayurveda, February 16-17, 2013
Familiarize yourself with the basic principles of Ayurveda and then get to immediately use them practically during the workshop - learn how to apply the ancient wisdom of Ayurveda in your everyday modern life.
My goal is for you to come home with many ideas on how to take care of yourself - not only your health, but also your skin, your body and especially your mind. We will practice self-oil massage, rejuvenating facial massage, ayurvedic yoga, alternate nostril breathing, meditation, and relaxation techniques. We will talk about ayurvedic diet, healthy eating habits, daily routines and much much more. You will leave relaxed, rejuvenated and full of energy for your life.


---
"I'm very happy that you are offering another workshop Ayurvedic Diet and Detoxification. The first workshop Rejuvenate Your Body & Mind with Ayurveda was wonderful and I am still profiting from it four months later. Thank you!" -Alena Z., Prague, Czech Republic
---
Ayurvedic Diet and Detoxification, March 9-10, 2013
The basics of healthy Ayurvedic diet, spices, and recipes. You will learn how to use these simple secrets in your everyday life. Ayurvedic detoxification (Panchakarma) helps to purify your body & mind.
Most of us have heard the saying: "You are what you eat," and yet most of us ignore it. Often we relate to our body as to a garbage can, in which we throw whatever comes into our hand.
This workshop will help you to return to a healthy diet naturally and spontaneously. You will get familiar with ayurvedic diet, spices and other food supplements that are appropriate for each season and each constitution. You will also learn how to regularly cleanse the body and mind with Panchakarma, ancient detoxification technique that is very gentle and yet very effective.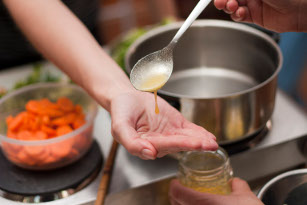 This holistic workshop is also suitable for those of you, who are struggling with overweight. If it seems like you have tried everything possible, but the extra kilos still remain, this workshop will help you uncover the reason why.
This holistic workshop also includes actual cooking, so it will be easier for you to cook at home :-)


Ayurveda, Yoga and Our Mind, May 18-19, 2013
"Change yourself and the whole world will change."



Fall into an instant relaxation and a sense of well being. Learn how to use your mind in your own favor, and realize its amazing powers. Feel the energy of your breath and yoga. Discover the secrets of your energetic marma points, where consciousness and body meet.

You will get to live the saying: "You are NOT your mind"

Most of the workshop is very practical - we experiment with ourselves, our mind and our ability to see and direct the mind where we want it. After this weekend you'll never look at the world with the same eyes.


---
"Bara, the weekend was super effective! Normally, I am quite nervous, anxious. Today, unusually calm and even managed to finish more tasks than planned! I was able to focus just on what I was doing. Coffee substituted for the purchased tea." -Daniela S. after Ayurveda, Yoga and Our Mind Workshop, Prague, Czech Republic
---
Prices of the Workshops:
Price of one workshop: 2.190 Czech crowns (88 euros)/person
Price of two workshops: 4.190 Czech crowns (169 euros)/person
Price of three workshops: 5.890 Czech crowns (238 euros)/person

500 Czech crowns nonrefundable deposit is required with each registration. Information about how to pay for the deposit will be emailed to you with the confirmation.
To register for any of the workshops, please fill out the form below. If you have any questions, don't hesitate to contact me
Ayurveda Holistic Workshops Sign Up Form


Return from Holistic Workshops to Ayurveda Holistic Medicine HomePage