Benefits of Shoulder Stand
Shoulder Stand belongs to a group of Yoga Poses called Inversions (inverting from the normal up right position to the upside down).
In general, inversions are extremely beneficial for the heart, lungs, endocrine system, and the brain.
Gravitation pulls everything down. During inversions this process is, . . . well, . . . inverted. So our organs and brain get to be bathed in the blood. Also, since our head (and face) get so much blood, Shoulder Stand is an amazing pose for reducing wrinkles and overall increasing the circulation of the blood to the face, and therefore improving the complexion.
Shoulder Stand also benefits:
Absorption of nutrients
Appetite - increases
Asthma
Constipation
Digestion - strengthens
Hemorrhoids
Insomnia
Menstrual problems
Pitta imbalances, such as: irritability, short temper, anger
Varicose veins

Isn't that amazing??? One Yoga posture with so many health benefits!
Shoulder Stand also brings joy, vitality, happiness and confidence. 
How to Practice Shoulder Stand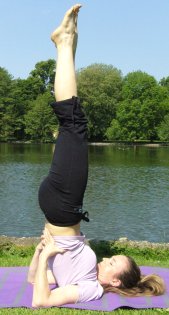 1) Lie on your back, hands by your side, palms down. Inhale and bend your legs at the knees and bring the knees towards the chest.

2) On exhalation, lift your hips off the ground and place your hands (palms down) on your lower back for support.
3) Lift the rest of your body off the ground with the help of your hands (elbows staying on the ground for support).
4) Extend your legs upwards, towards the sky or ceiling. Imagine somebody is lifting your legs upwards towards the sky.
5) Try to have as little pressure on your head and neck as possible. Shoulders should be bearing the pressure, but not the head and neck. Have your chin pointing towards your chest, in the 'chin lock position.' Never turn your head when you are in this position!
6) Breathe. Stay in this position (when comfortable!) for 1-5 minutes. Anytime you feel any type of discomfort (pressure, pain, fear, breathlessness, etc.), bend your knees toward your head and slowly roll your spine back to the ground (on exhalation).
You can also begin (or end) this Yoga posture with Halasana, Plough Pose


Contraindications
Shoulder Stand is more challenging than it might look. You should not practice this Yoga posture if you have any history of heart problems, high blood pressure or any other pressure in your head (sinus, ear, etc.)
Also this Yoga posture is not advisable if you have had a recent or chronic shoulder, neck or back injury. If you are menstruating or pregnant this pose is also contraindicated. During menstruation you want your blood to be flowing down, out of your body and not to be reversing the flow. In pregnancy, the umbilical cord often connects at the top of the uterus, and performing even gentle inversions may cause the fetus to put pressure on this region, lowering its oxygen supply.
If you are new to Yoga, this is also not the Yoga posture to start with. Seek help from an experienced Yoga instructor or visit a yoga class.


---
Enjoy the many benefits of the Shoulder Stand, but also remember to keep your neck happy!
---
Return from Shoulder Stand to Yoga Poses
Return from Shoulder Stand to Ayurveda Holistic Medicine HomePage