The Best Natural Remedy for Sore Throat
"The sitopaladi/pippali/honey mixture is a miracle. That is THE best natural remedy for sore throat that I have ever tried."                                             -Hendrik H., San Jose, CA
When you can catch your sore throat right at the beginning . . .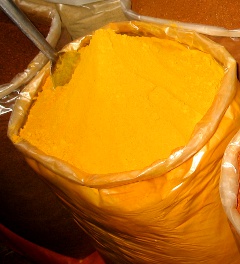 then, the best natural remedy for sore throat is to gargle with turmeric and salt.
Take about:

½ cup of warm water
½ tsp salt
¼ tsp powdered turmeric

You have to play with these proportions as it's slightly different for each individual and also not every salt and turmeric are the same. You should taste both the saltiness of the salt, as well as the bitterness of the turmeric. Neither of them should be overwhelming.
After you gargle, don't drink or eat anything for at least ½ hr for the salt and turmeric to do their job of killing bacteria. You can repeat this as often as you need throughout the day.



When the sore throat is mostly in the morning and then it gets better throughout the day . . .
make sure that the air in your bedroom is not too dry. Putting a pot of water on your radiator or putting wet towels there, may fix the problem.
Maybe your throat gets dry at night because you breathe through your mouth. Then the best natural remedy for sore throat is to squish some water with sesame oil around your mouth.
Mix about:
2 TBS of warm water
2 TSP of sesame oil

Also oleating your nostrils might be helpful (put 2 drops of sesame oil on your pinkie finger and then insert in your nostril). One nostril at a time, please ;-)
This simple treatment will not only help with your sore throat due to dryness, but also increase Prana, the life force, in your body & mind.
Another great natural remedy for this kind of sore throat is to drink warm water with about ¼ tsp of licorice (assuming you don't have high blood pressure or swelling because licorice increases both).



When your sore throat is part of a cold/flu . . .
first of all make sure that you get enough rest, Vitamin C (best source is Amalaki) and Zinc.
Also take 1 tablet or ½ tsp of neem at least 3x day.
After neem, mix about:
1/2 tsp sitopaladi
1/8 tps pippali (or regular pepper if you don't have pippali)
1 tsp honey (local is the best)

Lick this mixture and don't eat or drink anything afterward for at least ½ hr. You should feel little bit of burning in your throat after you take this sitopaladi/pippali/honey mixture. If no burning is present, then add more pippali next time. Take several times a day as needed.
This combination is truly amazing.
I have had people report to me that they have had a bad sore throat for days and this mixture completely healed them within a couple of hours.
In any case of sore throat it's also useful to eat Kichari or other simple meal. Kichari is easily digestible and your body will have more energy for healing itself.
Sometimes, it's also a good idea to sweat it out. Sauna might be a great option. When toxins are too deep or you are too weak, sauna will further weaken your body and you will feel worse afterward. You have to follow your gut feeling if the sauna (or other form of sweating) will help you or not. If you energy is quite good and you only have a mild problem with the sore throat, sauna might help you to heal faster.
As with any recommendation, please follow your instinct on what is good for you. In the end you are the one who knows what is the best for you.
Keep Your Throats Happy!
Return from Natural Remedy for Sore Throat to Home Health Remedies
Return from Natural Remedy for Sore Throat to Ayurveda Holistic Medicine HomePage