Time saving recipe
by Chaitra
(Mysore)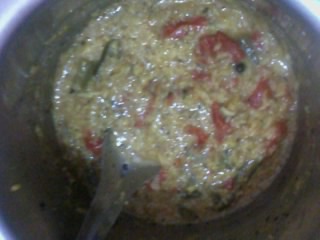 Tasty n fast
Ingredients:
3 chopped tomatoes
Chopped green beans
Chopped cilantro
12-15 curry leaves
1 t spoon turmeric
1 t spoon cumin
1 t spoon cinnamon powder
Pepper (as per your taste)
5-6 cloves
2 spoons ghee
1/2 t spoon hing
Salt (as per your taste)
Moongdal (2 cups)
Basmati rice (1 cup)

Steps:
1. Clean up and soak 2:1 moongdal:rice for night or at least for 30 mins.
2. Put it all in a vessel and add 6 cups of water.
3. Add all the spices mentioned in ingredients section and pressure cook it.

This recipe saves a lot of time as there is no sauteing of vegetables.Preferably use a wider vessel inside the cooker..so that the kichdi cooks well...
Join in and write your own page! It's easy to do. How? Simply click here to return to Favorite Kichari Recipes.